Solemnity of the Immaculate Conception
The solemnity on Thursday 8 December refers to Mary's conception. Mary was given this special grace because she is the Ark of the New Covenant. In the Old Testament, the Ark of the Covenant was God's dwelling place. The New Testament fulfills the old. When Jesus came into the world to be with us, God prepared a pure and perfect dwelling for himself through Mary. Let us place in the loving protection of Mary in this time of preparation for Christ's birth, all the many worries and preoccupations that weigh upon us.
Prayer to Mary
This is the oldest recorded Marian prayer outside of the texts from the Gospels dating back to the year 250.
We fly to Thy protection, O Holy Mother of God. Do not despise our petitions in our necessities, but deliver us always from all dangers, O Glorious and Blessed Virgin.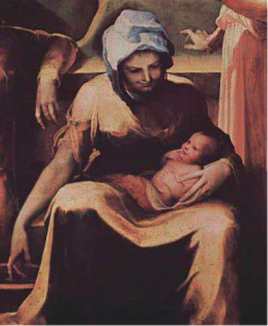 Painting of Jesus' grandmother Anne, holding her baby Mary.
Readings
Gen 3:9-15, 20 'The man named his wife Eve, because she was the mother of all living.' (20)
Ps 97: 1-4 R. Sing to the Lord a new song for he has done marvellous deeds.
Eph 1:3-6, 11-12 'God chose us in Christ before the foundation of the world.
Alleluia, alleluia! Hail Mary, full of grace, the Lord is with you; blessed are you among women. Alleluia.
Luke 1:26-38 'The angel said to her, "Do not be afraid, Mary, for you have found favour with God."
More information from Aleteia about this solemnity of the Immaculate Conception HERE
The image on the main slider shows Mary's image as protectress of the Roman people, Rome, 5th Century