Palm Sunday of the Passion of the Lord
Palm Sunday commemorates the entrance of Christ into Jerusalem, when palm branches were placed in his path, before his arrest on Holy Thursday and his crucifixion on Good Friday. It marks the beginning of Holy Week, the final week of Lent. Also called Passion Sunday, it is marked by the full reading of the Passion of Our Lord Jesus Christ which describes the last week of Jesus' life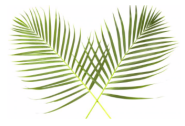 Message from Pope Francis for Lent (continued).
The second proposal from Pope Francis is: 'The light that Jesus shows the disciples is an anticipation of Easter glory, and that must be the goal of our own journey, as we follow "him alone." Lent leads to Easter: the "retreat" is not an end in itself, but a means of preparing us to experience the Lord's passion and cross with faith, hope and love, and thus to arrive at the resurrection.
Let us go down then, to the plain, and may the grace we have experienced strengthen us to be "artisans of synodality" in the ordinary life of our communities.'
Read the complete Message from Pope Francis for Lent 2023 HERE
Readings
Is 50:4-7: I did not cover my face against insult and I know I will not be ashamed.
Ps 21: 9-9, 17-20, 23-24 R. My God, my God, why have you abandoned me?
Phil 2:6-11. He humbled himself to become like us and God raised him on high.
Mt 26: 14-27:66. The Passion of our Lord Jesus Christ according to Matthew.
Homily Studio podcast
Listen to a 30-minute conversation about the scriptures for Sunday HERE
Prayer of the Faithful (starters):
Invocation: E te Ariki … Response: Whakarongo mai rā ki a mātou
For the Church: that all the baptised grow deeper in their relationship to our shepherd king and offer lives in loving service to others.
For all who have experienced abandonment, betrayal or rejection: that God's Spirit will help them hold onto the truth, goodness and love of a God who will never abandon us.
For leaders of government and business: that through the example of Jesus, they recognize how to be humble servant leaders who prioritise the needs of the vulnerable.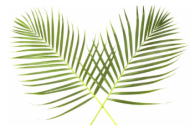 Background thoughts about the palms used on this day
Palms as symbols
The palms blessed on Palm Sunday are the same palms that will be burned and turned into ashes to be used on Ash Wednesday of the following year. The ashes remind us that we came from dust and to dust we shall return. It is also a reminder for all of us to be faithful to our Christian commitment to follow the Lord, thus the invitation to "turn away from evil and be faithful to the gospel". These are the same reminders of the palms that we ask to be blessed by the priest on Palm Sunday – to be faithful in our commitment in following the Lord.
Where could we place the palms at home?
We should place the blessed palms in the part of our house where everybody will see them often. As the palms become dry over time, they serve as a reminder that, human as we are, sometimes our commitment in following the Lord also withers and fades.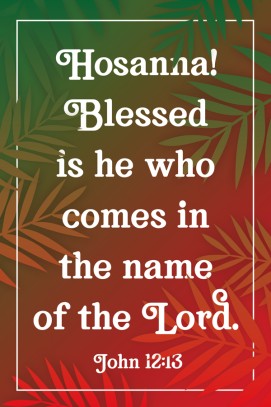 Hosanna
"Hosanna" is Hebrew which originally was a plea for help 'Save us!" But 'Hosanna" has become a word of honour and praise. We say this word at Mass when we sing or recite together the Holy holy (Sanctus)
'Hosanna in the highest, Blessed is he who comes in the name of the Lord. Hosanna in the highest!'
So we could claim that EVERY Sunday is a 'mini Palm Sunday.'
Resources
Laudato Si' Lent calendar HERE
Loyola Press resources for Lent
A useful collection of ways to inspire you throughout Lent. HERE
Visual communication on Scripture
The Stations of the Cross through Lent. HERE
Caritas Aotearoa New Zealand
I am the light of the world – Lent 2023
There is a long list of resources to download. Go to their website HERE
©sedmak/123RF.COM