More from Desiderio desideravi
The Liturgy – a dimension fundamental for the life of the Church has been given a renewed focus. Pope Francis wrote an Apostolic Letter in 2022 on the liturgical formation of the People of God. Desiderio desideravi – "I have ardently longed" derives from the words of Jesus, with which the account of the Last Supper opens.
The Letter describes how the true liturgical life is not conformity to rules, nor ceremonial display to defend the sacredness of the rites, but to the capacity to announce the mystery of a God in Jesus Christ as a God of tenderness and mercy.
Here are two considerations on the liturgy to ponder from a recent address by Pope Francis to participants in the course "Living liturgical action fully." (Friday 20 January 2023)
On Silence
"I urge you to cultivate silence. In this age, we talk, we talk… Silence. Especially before the celebrations – a moment that is at times taken for a social gathering. We talk: "Ah, how are you? Is everything going well? Why not?". Silence helps the assembly and concelebrants to concentrate on what is to be done. Often sacristies are noisy before and after celebrations, but silence opens and prepares for the mystery: it is silence that enables you to prepare for the mystery, it permits its assimilation, and lets the echo of the Word that is listened to resound. Fraternity is beautiful; greeting one another is beautiful, but it is the encounter with Jesus that gives meaning to our gathering, to our coming together. We must rediscover and cherish silence!"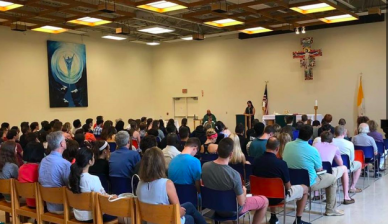 On Wonder
"One of the aims of the Council was to accompany the faithful in recovering the capacity to live liturgical action fully and to be astonished at what happens in the celebration under our very eyes (cf. Desiderio desideravi, 31). Note that it does not speak about aesthetic joy, for example, or the aesthetic sense, no, but rather wonder. Wonder is different to aesthetic pleasure: it is the encounter with God. Only the encounter with the Lord gives you wonder."