Mary the Holy Mother of God
The Virgin Mary, the mother of Jesus Christ, the Son and Word of God is celebrated on the Octave of the nativity of the Lord. She conceived by the power of the Holy Spirit and the term Theotokos (Greek for "God-bearer") was a succinct expression of the biblical teaching of the Incarnation.
In the Scriptures we learn how the shepherds visited Mary, Joseph and newborn baby. They were excited to share what the angels had told them. In Luke's gospel 2:10-12 we hear how the angel told them not to be afraid as this was good joyous news for all people. "Today a Saviour has been born to you in the town of David - Christ the Lord." Amazed and astonished the shepherds told everyone who was there. What a scene on that extraordinary Bethlehem night!
Somehow after all that had happened, Mary was at peace as we hear she "kept all this and reflected in her heart." She had so much faith and trust in the work of God, having witnessed for months, how amazing things happen when God's in control.
Readings
Nm 6:22-27 The Lord look upon you kindly and give you peace!
Ps 67: 2-3,5,6,8. Response. May God bless us in His mercy.
Gal 4:4-7 God sent the Spirit of his Son into our hearts ...
Alleluia, alleluia, In the past God spoke to our ancestors through the prophets; in these last days, he has spoken to us through the Son. Alleluia alleluia.
Lk 2:16-21 The shepherds found Mary and Joseph, and the infant lying in the crib ... When the eighth day came they gave him the name of Jesus.
Homily Studio podcast
Listen to the Homily Studio for a conversation on this weeks' scripture readings. The podcast is available at this link from Monday 26 December.
Let us Pray
As January 1 is also the World Day of Peace we pray for all countries suffering from war. A page on this site has links to prayers for peace especially for Ukraine HERE
Traditional prayer to Mary
It is timely on New Year's Day to recite the prayer Salve Regina - Hail Holy Queen on this solemn feast of Mary Mother of God - Theotokos – God bearer.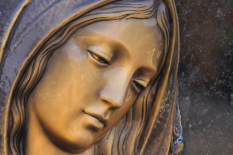 Salve Regina – Hail Holy Queen

Hail, holy Queen, Mother of Mercy!
Hail our life, our sweetness, and our hope!
To thee do we cry, poor banished children of Eve,
to thee do we send up our sighs,
mourning and weeping in this valley of tears.
Turn, then, most gracious advocate,
thine eyes of mercy toward us;
and after this our exile show unto us the
blessed fruit of thy womb Jesus;
O clement, O loving, O sweet virgin Mary.

V. Pray for us, O holy Mother of God
R. That we may be made worthy of the promises of Christ.
(Image on main slide by Jacques GAIMARD from Pixabay.)