Day of Prayer to end trafficking and slavery
Modern slavery covers a range of exploitative practices including forced labour, forced marriage, human trafficking and slave-like conditions. This happens in Aotearoa New Zealand through such activities as debt bondage, immigrant workers to work in industries here including construction, dairy farming and fruit picking. Slavery exists in many supply chains and legitimate businesses as well as sex slavery which involves an exchange of sex for money and/or drugs. The International Day of Prayer against trafficking of Humans is on Sunday 30 July. Let us remember all those caught up in this tragic situation.
People are not for sale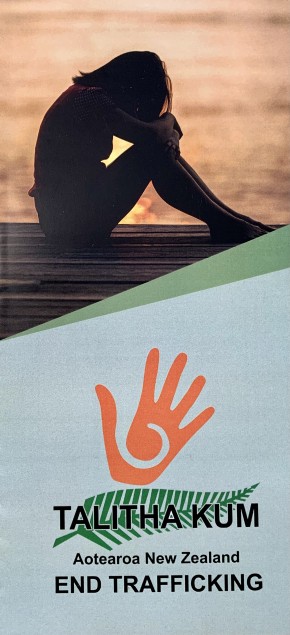 St Bakhita pray with us
to rid the word of modern slavery, so that no children or adults are subjected to the inhumane treatment you suffered.
Bless us God
With hearts that grieve injustice.
May your Spirit be with us
And Christ companion us.
May your blessing flow in us,
Strengthening our commitment
To stop the trafficking and slavery of humans
In this country and around the world.
We ask this. Confident that you desire
Freedom for all people.
Amen
Prayers of intercession HERE
More Prayers HERE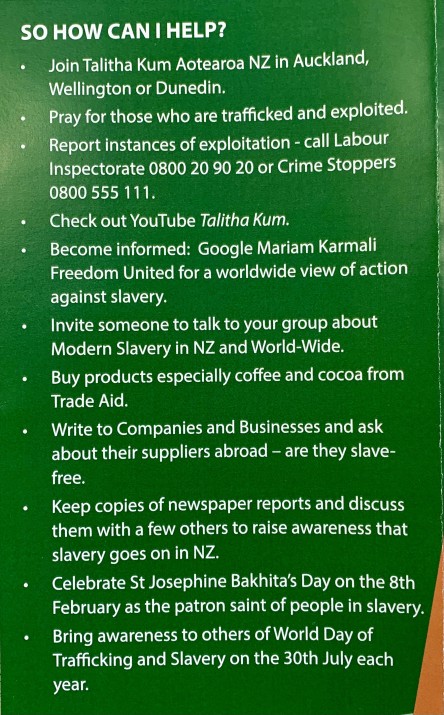 TKANZ – Talitha Kum Aotearoa New Zealand is an organisation with a primary focus of raising awareness of human trafficking and slavery. TKANZ collaborates with like-minded organisations in New Zealand, the Asia and Pacific region to address human trafficking, its causes and the scope for local action.
TKANZ is associated with the International Taitha Kum Organisation which is represented in 92 countries. For more information HERE